There are several ways to print on T-shirts, depending on your artwork, we will select the most suitable Tshirt printing method for your needs. Ark Industries, one of the pioneers in T-Shirt Printing in Singapore employes 3 different types of T-shirt Printing
• Sublimation printing
If you are a sports fan and needs customized tees and jerseys, sublimation printing allows full-coloured prints all over the fabric. The colour will not flake off as the colour is permanently absorbed to the fabric and provides the fabric with a fantastic soft touch. At the same time, sublimation printing provides you with an almost unlimited colour palette to choose from!
• Heat press printing
If you want outstanding results of high resolution and vibrant prints, we recommend our heat press printing solution. Our heat transfer material are provided with our full quality asssurance. You have a wide range of colours and various finishes to choose from for your T-shirt printing which include metallic, glitter and even 3M Scotchlite Reflective Vinyls.
• Silkscreen printing
Using a mesh to transfer ink onto a surface which using a stencil to block certain areas in order to create a pattern, silkscreen printing is a technique which can be applied on a huge range of material with long lasting and consistent results. More vibrant and brighter colours are achieved through the process of heavy ink coverage used.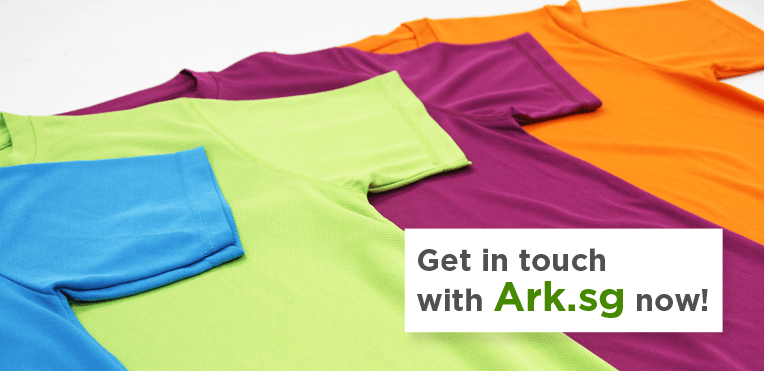 Ark Industries Products Singapore
As one of the pioneers in the industry in Singapore, we create eye-catching branded apparel and clothing, we help you conceptualize your dream designs to your item of choice – if you can imagine it, we can design and create it. With the preferred material of your choice, we will factor in the material's properties and provide advice and guidance on the application of your design, ranging from digital heat transfer, silk screen printing, vinyl transfer and embroidery. As one of the leading companies in Singapore, we hold the exclusive distribution rights for leading brands such as Taylormade, Golf, Adidas, Yupoong Flexfit and Under Armour.
Ark Industries: A Printing Partner that Delivers
Since our inception in 2005, Ark Industries has earned a reputation as one of the top embroidery and T-shirtping companies in Singapore. Our mission is to under promise and over deliver to our clients – we deliver quality and unique products on time – every time.
Complete Customisation
With a dedicated in-house design team that allows us total free play in creating completely customized designs, we work closely with our clients to turn their ideas into reality with our unique combination of technical know-how and our strong sense of aesthetics and creativity.
Outstanding Customer Service
With a high commitment to quality, Ark Industries only uses the highest quality materials imported from Europe, our embroidery threads are sourced from the renowned producer Madeira and for our prints we use TheMagicTouch – the world's leading image transfer paper system. Our products never fade and we offer a 100% replacement guarantee.
Uncompromising Quality
With 30 years of combined experience we have gained valuable insights to the needs of our customers. Our competitive advantage lies in the ability to handle quick turnaround and unique requests of our customers. We will also provide a friendly, responsive and highly personalized service.
Save
Save
Save